Natural Bath Bombs > SpaGlo Organic Bath Bomb Gift Set - 6pc Extra Large 4.5 oz.Bath Bombs

SpaGlo Organic Bath Bomb Gift Set - 6pc Extra Large 4.5 oz.Bath Bombs



| | |
| --- | --- |
| Price: | $24.95 |
| Availability: | in stock |
| Prod. Code: | BB0192 |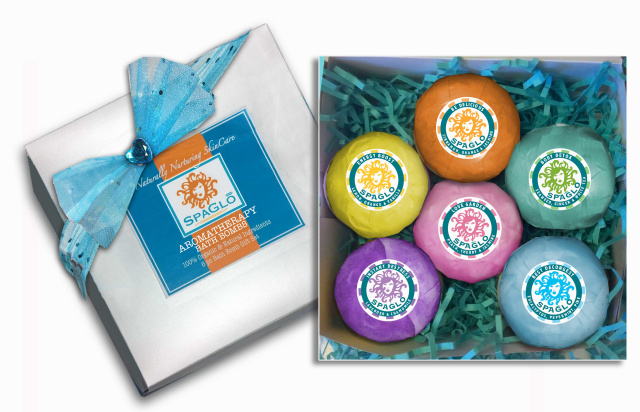 SpaGlo® Organic Bath Bomb Gift Set -
MAKE AN IMPRESSION and give someone special a luxuriously pampering SpaGlo® Bath Bomb Gift Set. It makes a perfect gift for ANY Occasion...a Shower...Bridal Party...Birthday...Holiday...or just to treat yourself! Every detail of this product is created with love and will make you...a co-worker, parent, friend or loved one feel special and pampered! It has 6 extra large 4.5 oz bath bombs made with all natural & organic ingredients, essential oils and is free of any stains or artificial coloring, parabens, SLS. Up to 90 % organic ingredients. Infused with moisturizing Organic Shea Butter and Organic Cocoa Butter, Organic Citric Acid plus anti-oxidant benefits of Grape Seed, Avocado Oil and Olive Oil. Wonderfully moisturizing but not greasy in the tub. Leaves skin soft, silky with a wonderfully mild scent that is fresh smelling and not perfumey.
-CHILLAX and Enjoy a relaxing, luxurious, moisturizing and pampering bath.
-Each bath bomb is a different blend of essential oils to target different issues.
-Individually wrapped, labeled and beautifully presented in a decorative gift box.
These are MADE FRESH in the USA and twice the size of top selling brand...so you get more for your money.
6 Luxurious Scents to enjoy:

INSTANT DE STRESS: Lavender & Chamomile,
BODY DETOX: Seaweed, White Tea and Ginger,
LOVE GARDEN: Peach, Cherry & Jasmine,
BEST DECONGEST: Eucalyptus, Pine & Mint,
ENERGY BOOST: Lemon, Orange & Vanilla,
BE DELICIOUS: Cinnamon, Orange & Mint
Buy two or three and have them on hand ready to give. Stock Up and Save!
Directions: Pop one of our nourishing, fizzing bath bombs in your bath water and watch it explode into a swirling, twirling ball of fragrant, moisturizing fizz!
Contains:Baking soda (natural), Organic Citric Acid (natural), Kaolyn Clay, Organic shea butter, cocoa butter (natural), Grape Seed oil, Sunflower oil (natural), Olive Oil, Essential Oils, Sugar (natural), Sea salt, Distilled Water & Corn Starch (natural).
Product Reviews:
Currently We Only Ship Within The USA.
International Customers Click Here.

FREE
STANDARD
SHIPPING
ON ALL ORDERS
© 2006 -2014 SpaGlo® Beauty LLC